You can get a Birthday Reminders in advance and also on the day by following these instructions:

- Login to 123Greetings Connect.

- Go to settings page or 'My Reminders" tab and you can find a "Birthday Reminder Settings" box.

- Select the desired number of days in advance you would like to get reminded about your contacts birthday as shown below.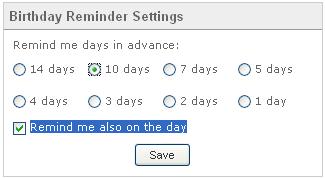 - Check the "Remind me also on the day" option.

- Click on "Save" button.

Note: By default you will get a reminder 7 days in advance and also on the date of the birthday.