Follow Artist is a feature in 123Greetings Connect which allows you to follow your favorite artists and get notifications whenever they upload new ecards on our site.

You can follow your favorite artist by following these instructions:

- Login or Sign up to 123Greetings Connect.
- Confirm your email address if you have not done so.
- Click on "My Artists" tab and click on "Studio Leaderboard page" or "View all Artists".
- Click on the "Follow Artist" button to follow your favorite artist.
- You can also click on "Follow Artist" button from the card page of the Artist as shown below: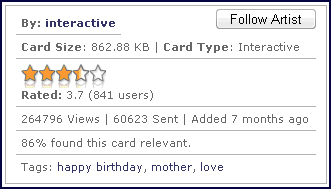 That's it!

Start following your favorite artists now to stay updated.