You can get Anniversary Reminders of your contacts by following these instructions:

- Login to 123Greetings Connect.

- Click on "My Address Book" tab and click on the "Edit" link present beside the contact whose anniversary you would like to update.

- Enter/ Update the "Date of Anniversary" field and click on "Save" button.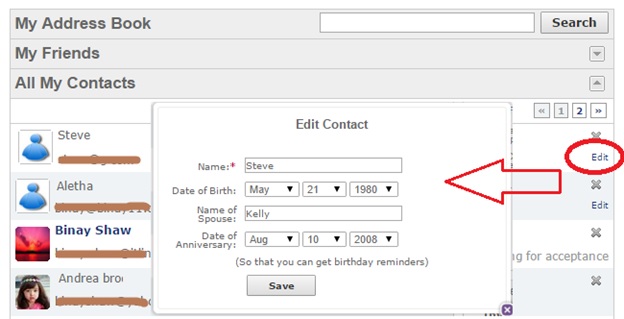 You can also enter/ update the "Date of Anniversary" field from "My Reminders" Page.

However, if your contact is already registered in 123Greetings Connect, you will not be able to edit his/ her Date of Anniversary.

Note: Please make sure that in "Settings" page you have selected the "Yes" option for "Send me an email reminder for my contact's anniversary" present in "Anniversary Reminder Settings" box. By default the option is set to "Yes".