The full version of 123Greetings Address Book allows you to import contact information from various email service providers.

To import contacts from your existing email accounts please follow these instructions:

- Login to 123Greetings Connect and go to My Address Book tab.
- Select the desired email account available from the Import Contacts box as shown below.





- If you don't see the email account from which you want to import from, click the (

) icon. Once you click on the icon you will see a list of supported email service providers through which you can import contacts.
- Enter your email address and password of an account from where you want to import contacts and click on Sign In button.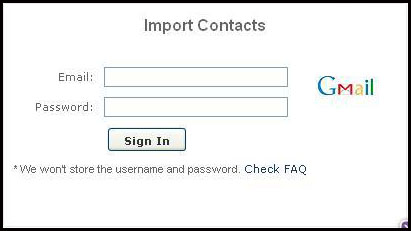 - After your credentials are approved. Select the contacts that you want to import. If you want to import all then click on "Check All" option.
- Click "Import".
- After contacts are imported a friend request will be sent to them if you select the option "Invite contacts to update their birthday".

That's it! You are done.
Note: Contact Name field will not accept any special characters except dot(.), underscore(_) and hyphen(-). However, while importing you will get an option to replace all other special characters with space.

If you want to start importing contacts now click here to Sign Up now. If you have already signed up, click here to Login.